Marc Fletcher's
Cryptocurrency Portfolio
An Airtable base that summarises your cryptocurrency transactions and compares your investment with a live market value in £GBP.
Learn about Requirements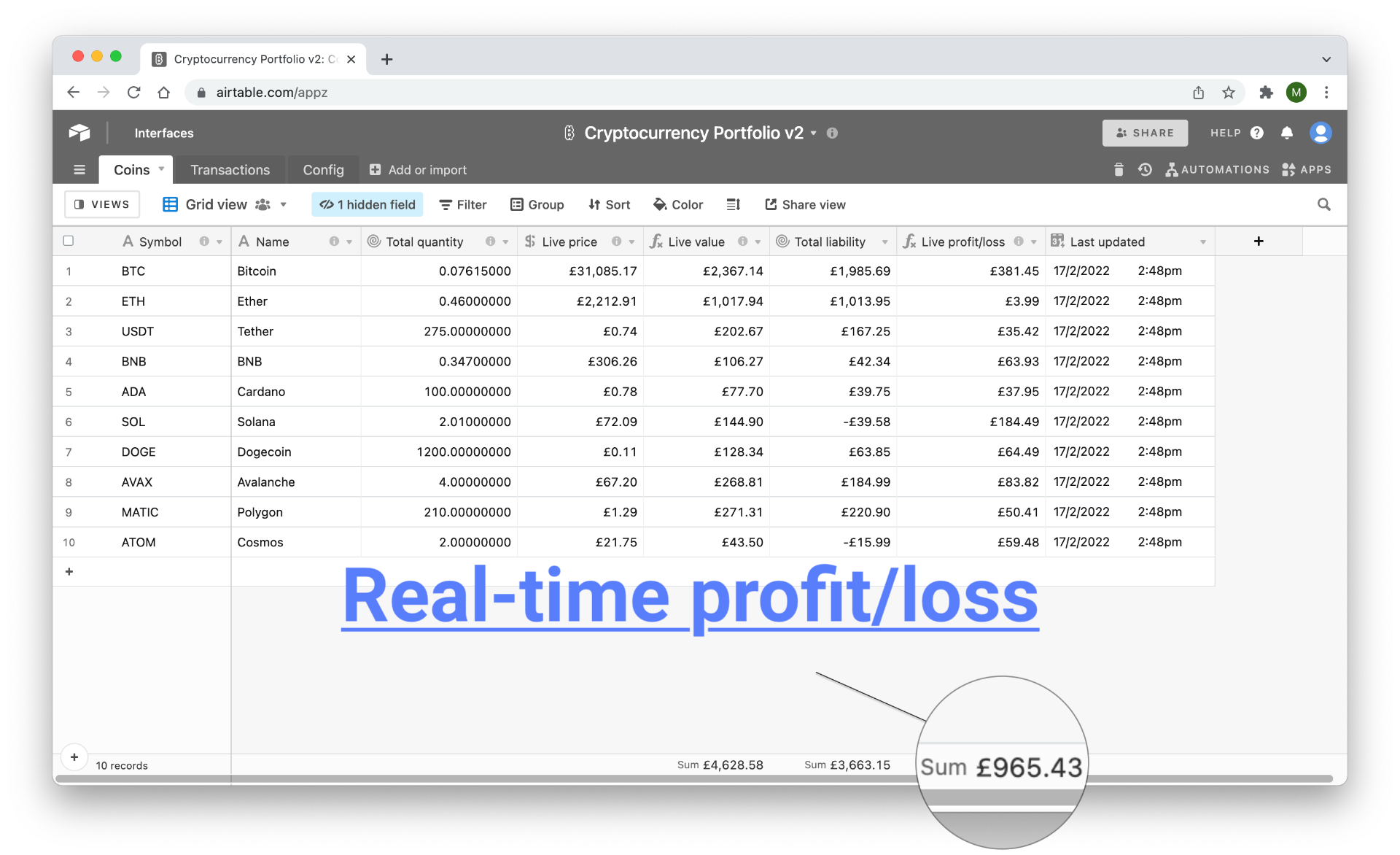 Profit or loss?
Use automatically updated, live coin prices to know the difference between your investment and the market value in £GBP
Easy to use
Built on Airtable
Get setup and tracking your coins fast with a table-type interface built upon a world-class database platform.
Live coin prices
Automatically updated
The built-in automation retrieves live-market prices for only the coins you own & the default $USD values are converted to £GBP with live exchange rates for you.
For multiple exchange users
Investment overview
Collect all your trading transactions (from multiple exchanges) into a single, lightweight solution and understand your whole crypto investment position.
Simply add and subtract!
Each change in your portfolio is a simple coin quantity addition, or deduction. All calculations, conversions and analysis values are automatic.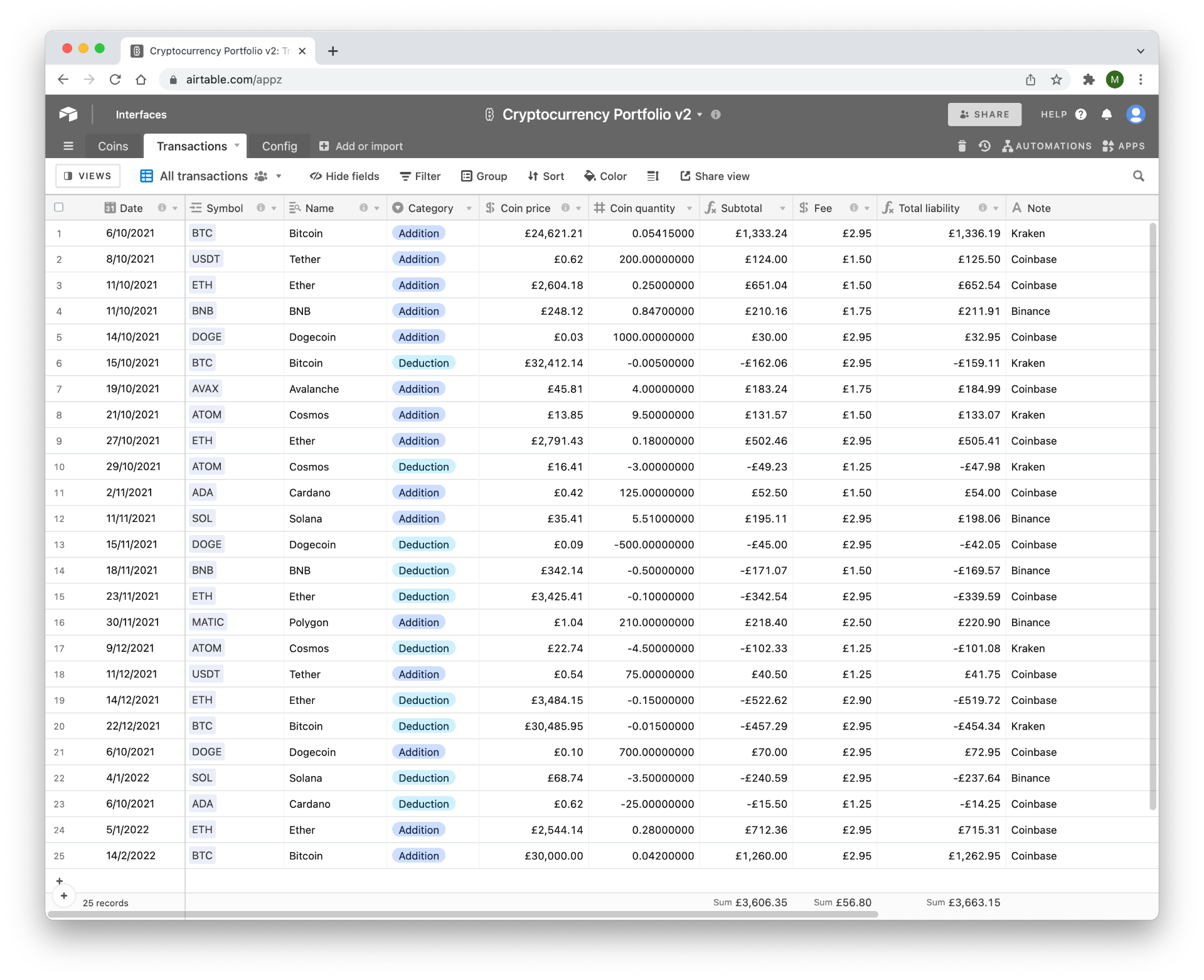 Easy record entry
Bookmark your very own form for rapidly inputting transactions. You don't even have open Cryptocurrency Portfolio to use it!
Coin picker
Streamlined data entry by design. Pick from only the coins you define and see only the data that's relevant.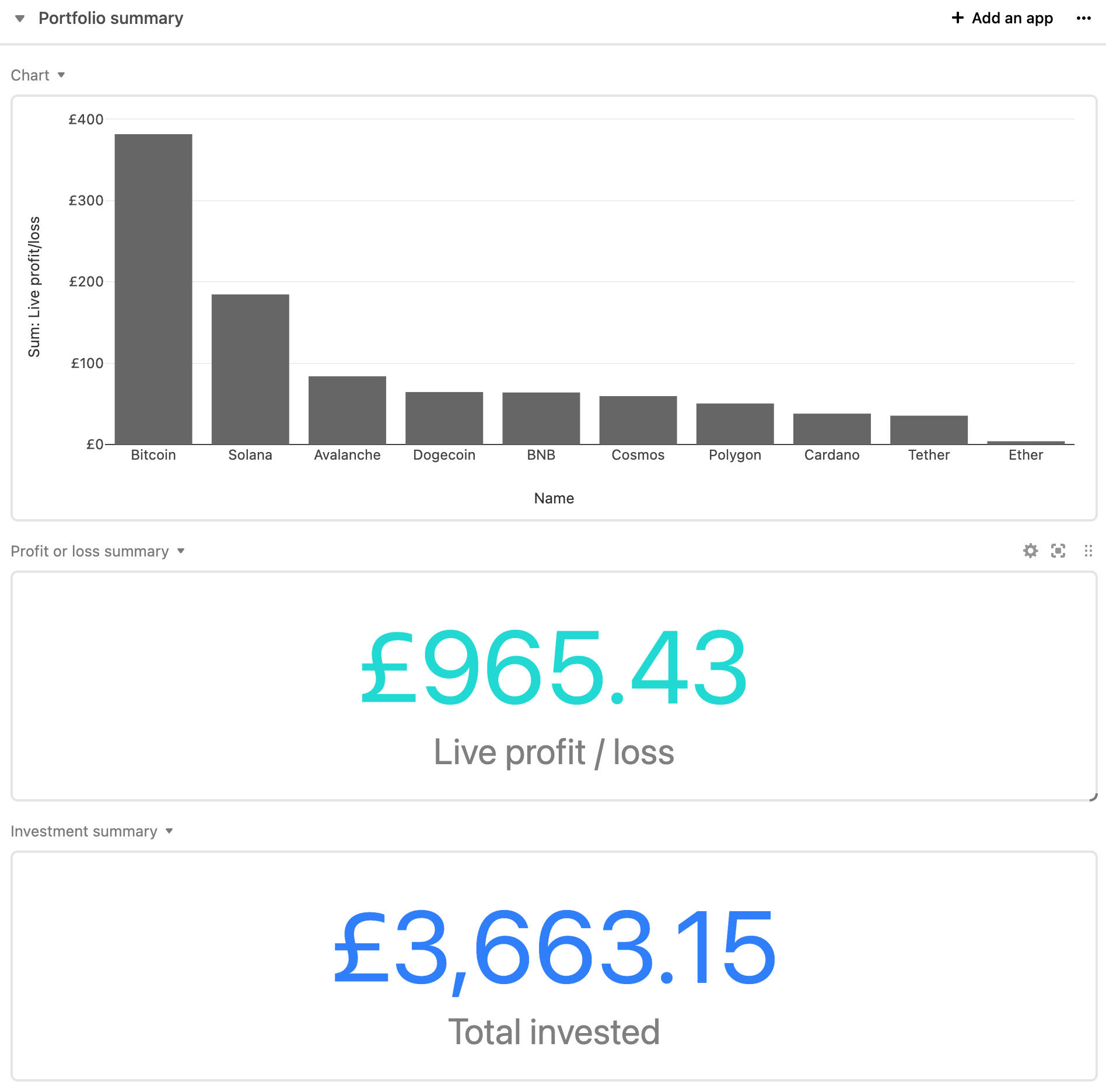 Cryptocurrency Portfolio
£ pay what you want
Get a copy of Cryptocurrency Portfolio. Pay whatever you want.
Track crypto transactions

Compare with live market prices

Auto profit / loss

All coins

Setup instructions & video

Email support
Personal setup
£29
Blandit massa enim nec dui nunc. Non pulvinar interdum. Malesuada turpis egestas.
Track crypto transactions

Compare with live market prices

Auto profit / loss

All coins

Setup instructions & video

Email support

Personal setup via Zoom call
Requirements
An Airtable account with a Pro plan active in your Workspace. You can use Cryptocurrency Portfolio with a Free or Plus Airtable plan, however the live prices feature will not work. Sign up with Secret and get Airtable $$$A free CoinMarketCap API key. https://coinmarketcap.com/api/